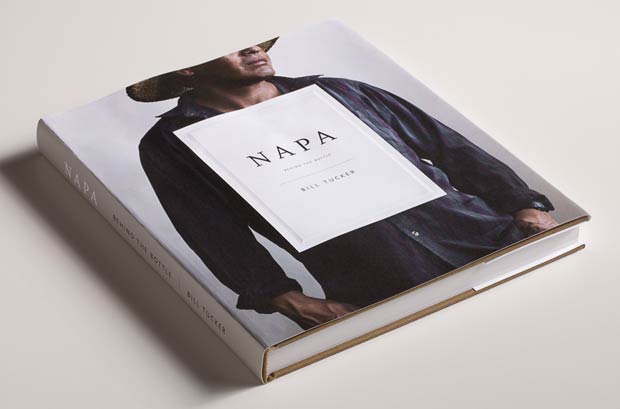 A thousand times I've been asked what this book is about. My answer has always been, "It's simply portraits of Napa Valley winemakers, vineyard owners and workers…and it wasn't even supposed to be a book."
It started as a simple project between friends in Chicago advertising. In 1999 a group of us decided we would combine resources to create a 16 page booklet to showcase each of our talents: photography, design, prepress, paper quality and printing. The decision to shoot in Napa Valley came after a trip by my friend, Waseem Jafar. Waseem was the digital prepress side of our group and had recently been to Napa Valley where he met Ray Coursen, owner and winemaker for Elyse Wines. He thought Ray would like to be involved with a project like this.
But how? I called Ray and explained that I was looking for great faces with character. Ray agreed that Napa was the place to find them. He embraced the project and offered to put my studio manager, Jeff Bayne, and myself up at his guesthouse. It was the first stage of a long relationship.
We flew to San Francisco, rented equipment from Calumet Photographic and shot for a week. Ray and his wife, Nancy, were amazing. They invited us to their home for dinner and Ray cooked. I mean Ray really cooked. Fantastic wines paired with the perfect foods. Ray is a remarkable winemaker and a phenomenal chef. We were overwhelmed with gratitude and soon found this generous spirit to be typical throughout the Napa Valley. Ray and Nancy were our biggest supporters with Ray giving me a list of names of people to photograph daily. So the project began.
I will never forget the experience of photographing my first winemaker, Jim Sullivan, of Sullivan Vineyards. Although not a native of Napa Valley, he was a true product of the Valley. Jim, formerly an ad agency creative director from Los Angeles, had settled with his family in Rutherford in 1972. He agreed to let me photograph him at the end of the day. I arrived early and told Jim I would like to shoot him sitting out in the vines in one of his old wooden chairs. Jeff, my assistant, and I set up the battery powered strobe lighting and had to use tie-downs with lots of 35lb shot bags on the stands to deal with the evening winds. Once Jim arrived he sat patiently as we shot the first of many Polaroids. I asked Jim if he would feel more comfortable having a glass of wine and he agreed it would make the ordeal much easier. We started trading stories about the ad business and one story led to another. I mentioned that I have always been in awe of winemakers and their ability to taste and blend these amazing wines. Jim asked if we would like to try and sample some of his vintages. I was sure I didn't have the ability to discern the nuances of his fine wines. Jim insisted we come into the winery after the equipment was packed and he would show us that even our untrained palates would know the difference.
It was harvest and the Sullivan's had picked several blocks of their grapes a few days earlier. Jim went over to a huge tank turned the spigot and let the juice fill the glasses. We both thought it was by far the best grape juice we ever had. Then he opened a bottle of his most recent Cabernet Sauvignon followed by a trip to the backroom where Jim pulled out a bottle of 15-year-old Cabernet Reserve. He opened the bottles and poured us glasses of each. We tasted his most recent Cabernet. It was excellent. Then we tried his 15-year-old Cabernet Reserve, we instantly understood. When Jeff and I told Jim it was extraordinary, his eyes lit up and he smiled.
Our small booklet had become an instant success not only with our target advertising agencies but also with the people who had seen it in Napa. A year later I received a call from the curator of Markham Vineyard, Clint Hulse, asking if I might be interested in doing a gallery show. Clint had seen the little booklet and was now asking for 40 images for the gallery's walls. I told him I would love to hang a show, knowing at the same time that I needed to shoot more images – a lot more images.
My son Jeff, not to be confused with my studio manager Jeff, was home from college for the summer and working in my studio. He joined me on this next shoot in Napa Valley for two weeks. Jeff was one of the final six nominees for the student academy awards that year for an animated film he did in college and I felt this trip would give him a chance to experience the still camera side of the business.
Again I called Ray and Nancy and they were kind enough to give us lodging on the vineyard. Everyday Ray suggested new names. He would say, "Give Mike Trujillo a call" or "have you talked with John Arns and Sandy Belcher? Use my name, they're great people." His help was invaluable. And he was right, we were meeting a lot of terrific people: winemakers, workers and vineyard owners. These are not nine to five jobs. It was a lifestyle that had you up before sunrise and working until the work was done. We adopted this same philosophy while shooting. If someone was available at six o'clock in the morning we would get up at four o'clock load the equipment and be there ready and waiting. Even though I had no control over location or wardrobe, all my photo sessions involved lighting the subjects. This took a lot of setup time, allowing only a few sessions a day.
The Sullivan family adopted us, too. Jim and Joanna, their children Sean, Kelly, Ross and Caireen would ask if we had photographed John Williams from Frog's Leap or Scott Mcleod from Rubicon Estate. Then Joanna would volunteer to throw a dinner party so we could meet more people. Even the Sullivan vineyard workers became subjects for my camera. Sean called fellow winemakers. His sisters, Kelly and Caireen, called friends and winery owners. Ross even offered to call fellow pilots and friends, like Koerner Rombauer and Randy Dunn.
Randy Dunn, winemaker and owner of Dunn Vineyards, agreed to sit for a portrait. I remember the shoot well because Randy showed up in tennis whites, rushing from his match to make our appointment. I asked if he would change into his work clothes. He came back looking like the Marlboro man except for the white tennis shoes. When told they would show in the photo, Randy went back into the house and out he came wearing his favorite old boots, hole in the sole and all. Perfect. So you're getting the idea photographing for this project was like a bunch of kids putting together a game of pick-up. One person would call someone who would call two more people and so on. Randy also made more calls and reached out to other winemakers for me. Bob Pecota was one of those people.
Bob, owner of Robert Pecota Winery, explained Napa Valley this way. He told me about a neighbor who called and desperately needed a tractor. Bob sent one down that afternoon and said, "Keep it as long as you need it." It is just that way in Napa Valley. Good people connecting with good people.
My exhibition opened at Markham in 2001 and every one of the vintners I had photographed showed up for the event. I was so impressed by these people and humbled by the gesture. Most had worked more than twelve hours that day in the middle of harvest and still were kind enough to lend me their support. Randy Dunn called me at Markham and said he was running late because he had just come in from picking and he and his wife, Lori, would be there shortly. They were.
As a result of the gallery show, with all these portraits of vintners and workers, I knew I had the beginnings of a book. I just didn't realize how many influential people had helped create this valley or how long it would take me to capture their images.
After 2001 my wife, Carol, and I returned to Napa Valley every year leaving our 9000 square foot studio empty in downtown Chicago. My son Jeff flew out many times to assist. My daughter, Kate, graduated from college and was working in our studio for a short time. She also experienced a three-week Napa shoot during the spring of 2005. She will gladly tell you about schlepping power packs, lights and stands up what seemed like a small mountain, in 90-degree heat, to photograph Bill Davies and Tom Gamble. Bill and Tom were childhood friends and told me their picture once appeared in the local paper as kids, posed in a tree. I loved the idea of them in a tree. We hiked for an hour, each of us carrying thirty pounds of equipment up a knoll on Gamble Ranch in Oakville looking for the right tree. We found it. Looking at this image still makes us laugh.
Carol and I have driven every route imaginable from Chicago to Napa Valley. Each time the car was over loaded with equipment, stands, lights, shot bags, bank lights, cameras and computers. In the course of photographing for this book, we switched from film to digital cameras that would give us large format quality. My son Jeff was doing the digital cleanup work on every image and days turned into weeks of work for him.
Ray and Nancy would always make room for us at the vineyard. My son Jeff learned to eat new foods at Ray's dinners and all the while I continued to get help from everyone. Carol kept all the names straight, carried equipment, made phone calls, and ran our business back in Chicago by cell phone. She continued to do the estimating and producing for the advertising jobs we had waiting for us when we returned from Napa.
Meanwhile, my vision for this book had expanded. It was important to establish the connection of people to people. I wanted to capture the character of the individuals responsible for making Napa Valley what it is today. It was the well-known philosophy of Robert Mondavi, what is good for one is good for all that makes Napa Valley unique.
So when Robert Mondavi topped my list of portrait subjects, it was through the efforts of George Schofield that made it a reality. George was happy I was doing the book. He too thought that there were a lot of people that should be recognized and gave me so much encouragement. He was responsible for helping me get so many of the original wine makers and pioneers of the valley. George suggested names of people, helped with phone calls and introduced me to some wonderful and enchanting visionaries. He is truly what the Napa Valley represents to me, friends helping friends.
During the spring of 2008, Daryl Sattui, from V. Sattui Wines, became the final person I photographed for this book. Carol and I met Daryl at seven o'clock on a Saturday morning to do our last shoot before heading back to Chicago. He suggested that we might want to go up and look at his new winery, Castello di Amorosa, as a possible background for his portrait. With flashlight in hand, we walked the inky black tunnels of the castle while Daryl searched for the corridor lights. During the walk I said to him, "I can't imagine taking fifteen years of your life to build a castle." His response was, "I can't imagine taking nine years to produce a book." Daryl and I had something in common: we both loved what we were doing.
I could tell stories about every one of these fascinating people. From the hard working pickers who sing and race through the vineyards while filling their boxes with the ripened grapes to the winemakers who decide when all of this action is going to happen each year block-by-block. However, as promised from the beginning this is not a book about politics or agricultural reform or any other issues that might be controversial to the Napa Valley. It's simply my vision of a place in time from 1999 to 2008. It is my perspective on the faces of Napa Valley. This book is a portfolio of some of the extraordinary people that have made the wines of Napa Valley famous. I have learned how much effort goes into every phase of wine making. The sweat and toil of those in the fields, the growers, the winemakers, their assistants as well as the owners, their families and all the employees are collectively the spirit of Napa.
I have an observation to make that may not be apparent from the photographs. The people of Napa are neighbors. I didn't have to go through publicists, tiers of staff or public relations departments. These stars of the American wine industry were approachable and as grounded as the vines they tend. They are good neighbors to each other and good friends. "Napa Vallians" are givers, they give back not just with donations of wines for charity events but with a kindness that is infectious, one that makes you realize sharing is the right thing to do. Admirable, even enviable traits we should all copy.
I apologize to anyone I may have left out of this book. It was simply a matter of timing. I applaud all of you for what you have done for U.S. wine appreciation and how the world respects and enjoys the wines of Napa Valley. Truly this valley is blessed and so am I for having been introduced to so many people who work behind the bottle. In the end, sharing my vision is what this book is about and why I created it.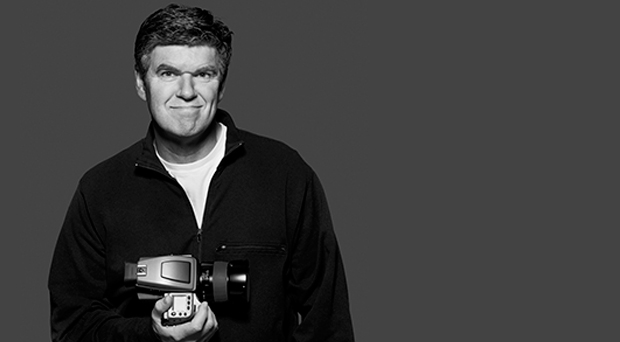 Bill Tucker has been an award winning commercial photographer for over 35 years, working out of his Chicago studio with his wife and business partner, Carol. His love for photography was fueled while a student at Boston University. He began as a photojournalist, moved into commercial photography producing national print campaigns for prominent US and global advertising agencies. He now collaborates with his son, Jeff Tucker, a gifted 3D artist and retoucher. Bill's compelling and powerful portraits have led him to publish and exhibit his on going personal projects.